Go Easy, Grow Faster
with
WhatsApp


Catalog Messaging
Go Easy, Grow Faster with
WhatsApp

Catalog Messaging
Boost your WhatsApp Business Catalog's reach with Zigchat's tailored messaging solutions. Let's work together!
Trusted by the World's
Leading Brands
Drive 2X Revenue with Whatsapp
WhatsApp Catalog

The ultimate sales
tool for businesses!
WhatsApp Business Catalog helps businesses showcase products along with images, prices, and descriptions
enabling customers to make purchases directly from WhatsApp.
Showcase
Single or Multiple


Products Effectively
Showcase
Single or Multiple

Products Effectively
The WhatsApp product catalog allows businesses to showcase a single product or multiple products at a time
, making it easy for customers to browse and find what they
are looking for.
Easy navigation for customers.
Increased visibility for the business.
Ability to track customer interactions with products.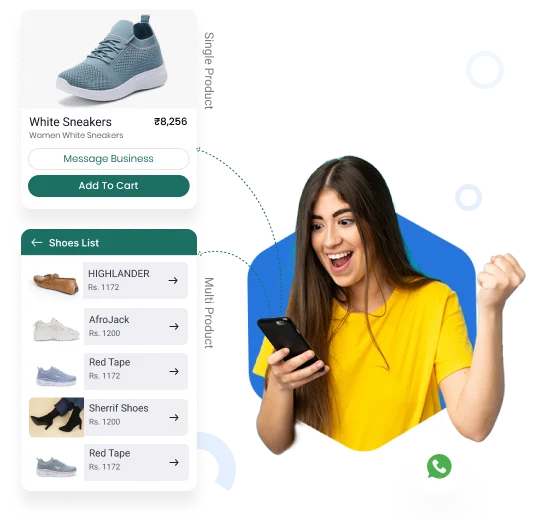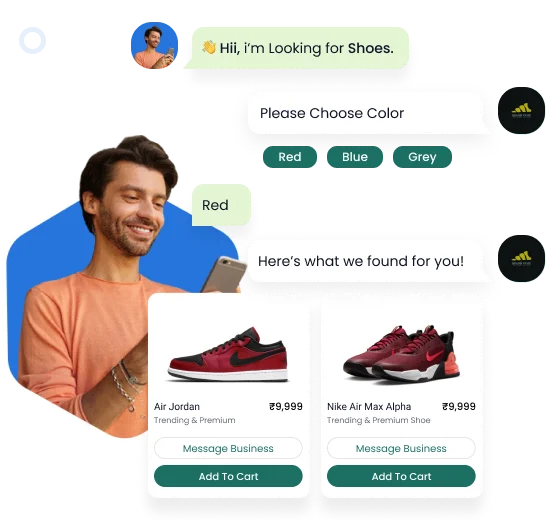 Share Products Based on User
Response or
Direct Filters
Share Products Based on
User Response

or

User Response
This Whatsapp catalog feature also allows businesses to share both static and dynamic products based on the user's response and activity.
Identifies high-performing products and demographics.

Aids in better showcasing features and details.

Per

sonalized recommendations by analyzing browsing/purchase history
Collect Orders

and Payments in just 2 Clicks
WhatsApp shopping catalog enables businesses to collect orders and payments by sharing payment links on WhatsApp, making it easy for customers to place orders and make payments quickly and securely.
Click-to-order button on the product page.
Allows for real-time updates on order status.
Integration with various payment gateways.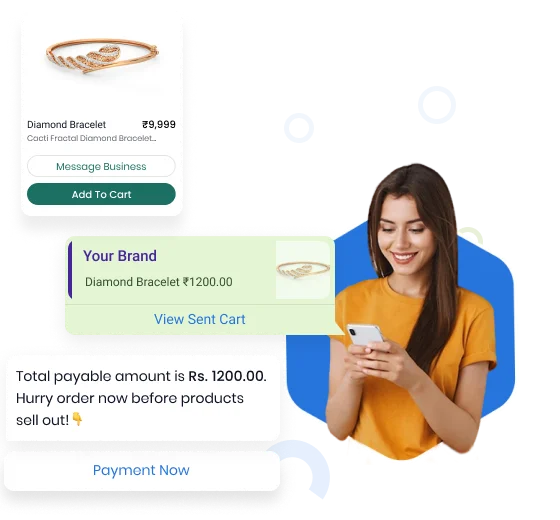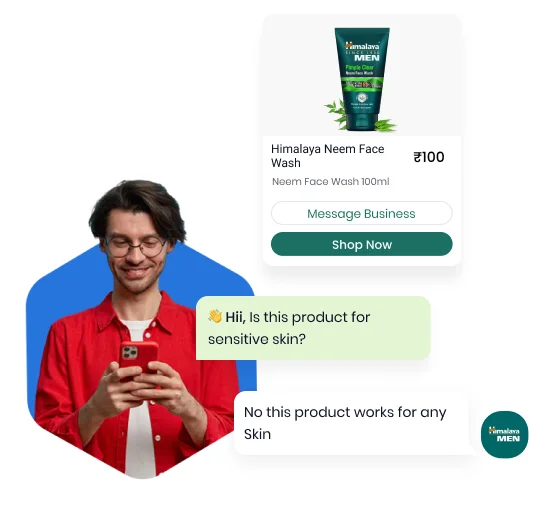 Manage Product
Queries

and

Communication
Creating a catalog on WhatsApp allows businesses to connect with customers directly via WhatsApp for any product queries they might have, providing a convenient and efficient way to get answers.
Direct messaging for product queries.

Easier communication and addressing concerns.

Enhances customer loyalty and engagement.
Easily Create Your Catalog:
Manual Entry, Google Sheets, and CMS Integration
Say goodbye to tedious catalog management and hello to convenience and efficiency! Businesses can now create and share a catalog
of their products directly, with the option of manual entry, importing data from Google Sheets, or integrating with a Content
Management System (CMS) in no time.

Frequently Asked Questions
How can ZigChat assist you in reaching a wider audience with your WhatsApp Catalog?
We can help you create compelling and effective messages for your WhatsApp Catalog that will engage your customers and drive sales. Our team of experts specializes in crafting effective messaging strategies that will help you stand out in the crowed marketplace.
Furthermore,  we cab assist you in shooting those messages to the right audience at the right time to maximize the chances of conversion.
With our message creation and shooting services, you can rest easy knowing that your WhatsApp Catalog is in good hands and working for you to grow your business. 
How many products can be added to the WhatsApp catalog?
WhatsApp allows you to showcase up to 500 products in a catalog and out of these products 30 can be promoted using messages.
Catalogs can only be used by WhatsApp Business account holders
How much does it cost to start with the WhatsApp catalog?
Creating and using a WhatsApp catalog is free. You don't need to pay any additional fees to create a catalog. However, you nees to have a WhatsApp Business Account to create a catalog, and to use WhatsApp's for certain services or tools provided by third-party providers.
List some of the guidelines to use the WhatsApp catalog.What is the cost of purchasing the business API?
Below are some of the WhatsApp Business Catalog guidelines to take into consideration:
Your business must have a WhatsApp Business Account to use the catalog feature.
You can organize your products into categories to make it easier for customers to find what ther're looking for.
It's important to keep your catalog up-to-date and accurate to provide a good customer experience.
you can use third-party tools to help manage your catalog more efficiently
the future of customer experience is

conversational

Join Us Today.
the future of customer experience is
conversational

Join Us Today.